Hello friends. Just a reminder, if you missed yesterday's Travel Tuesday Takeover post, you should check it out. It's a good one that shouldn't be missed!
Today's What I Ate Wednesday post is all about the power of the oven! I've been roasting things like a mad woman lately. I like this method for weekday dinners because I can pop some veggies/potatoes in the oven and let them do their thing while I shower off and get comfy after the gym, without wasting any precious time. Today's WIAW includes eats from Tuesday. As always, check out Jenn's blog for more WIAW posts. Enjoy!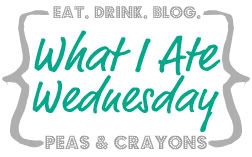 Breakfast
Plain Chobani with sweetened with some  honey, topped with ground flax, strawberries, and Whole Foods crunch cereal. Yum.
Lunch
Leftover dinner from last night: Tri-colored quinoa with roasted brussels sprouts and sweet potato. To make this, I roasted the sweet potato and sprouts at 400 degrees for about 20ish minutes. They were tossed with olive oil, salt, pepper, and garlic powder. I cooked the quinoa in chicken broth instead of water for more flavor. Mix together and add some Parmesan cheese to taste. Pretty good! Plus a banana, because I love them.
Snack
Mini cherry Larabar. This was the last of my mini ones in my snack drawer at work. I must get more!
Dinner
Bernie loves to make pasta and meat sauce – pretty much because it's one of the few things he knows how to make. I'm usually the one cooking for us, but one time, he surprised me with a ziti and meat sauce dinner. It was all ready for me when I came over one time, already portioned in the bowls and everything. It was really sweet. Tonight, dinner was my domain. I used regular pasta (I wish it was whole grain, but I can't win every battle) and added some ground turkey to make the meat sauce. As I was making it, I kept wishing I had more turkey than I had left over. I opened Bernie's cabinet and found a can of cannellini beans. I decided to add it to the sauce to bulk it up and add some protein and fiber. On the side, some roasted broccoli for added nutrients. Broccoli is another one of my favorite vegetables to roast – they're really easy and take almost no time. Perfect.
Enjoy the rest of your day, friends!
Readers: What are some of your favorite eats lately? Have you ever added beans to a sauce to bulk it up? What's your favorite things to roast?